Everyone loves a good romantic comedy, but the new web series Unicornland redefines exactly what that is. Created by Lucy Gillespie, it's the story of Annie, a recently divorced twenty-something, who heals herself by taking a relationship tour through the world of polyamory, where she explores sex and love with different couples.
The story originated from Gillespie's personal life. After being divorced at 26, she had a "what next feeling," and so to help her move on, she went looking for answers as to what went wrong in her marriage. After attending a few sex parties at New York's fetish scene, where she spoke with couples who helped her reinvent her ideas about relationships, she decided to create the series.
In eight episodes, Unicornland, captures the current zeitgeist of sexual tourism. It's a singles' how to guide in what to do and not to do in a relationship.
As the series progresses, Annie finds her confidence, and she learns that chemistry is everything. Sometimes an episode ends in connection, occasionally rejection, and at other moments, it can just be uncomfortable. In the end for Annie, it's an empowering tool in understanding intimacy and herself.
A playwright as well, Gillespie seems to have loosely borrowed the theme of naïveté to liberation from Tennessee Williams' play "The Glass Menagerie." Laura, the main character is delicate and innocent at the opening of the play, like Annie in the first episode of Unicornland. Laura's favorite glass animal is the unicorn, but it gets dropped and loses its horn, a symbol of a loss of virtue and joining the herd.
The series celebrates social diversity with a cast that includes Trans, genderqueer and disabled actors.
This is not the first time polyamory has been explored in television. ABC's Mistresses spent a whole season on thrupledom. The primetime series had a more deviant perspective, however, unlike Unicornland that takes this outside-of-the conventional exploration and fashions it into normalcy.
While the idea of a threesome is not new, bringing it into the mainstream is.
Gillespie's Unicornland reminds us that love is never free, but the idea of good sex and intimacy should not be hemmed into boundaries. Rather it's a mishmash of messiness that makes life and love more exhilarating.
Lucy Gillespie
Where did the title Unicornland come from?
The working title was "Magic Kingdom," because I grew up with Disney Princesses. Like Ariel, Belle, and Jasmine, Annie knows there's a big exciting world out there that she's been kept from "for her own protection." But I didn't want to get sued by Disney (and still don't). Unicornland felt magical, referenced unicorns–the technical term for what Annie is. But it also felt right to name the series after a place. Unicornland is about Annie, but it's also about New York.
Can you talk about the fine line between intimacy and sexuality in the show?
Intimacy is often a euphemism for sex, but I believe that's too simplistic. Annie is looking for true intimacy, which is a holistic attitude to relationships that also includes sex. With some couples, she finds it, with others she doesn't, or it surprises her.
Also the line between drama and comedy?
With dating and sex, things that are dramatic or even tragic in the moment, and often comedic afterwards.
They are that way because of anxiety, expectations and the pressures individuals place on scenarios without necessarily disclosing that information to (a) partner/s. So we were hoping to strike that balance of mortifying/raw in the moment, but funny with perspective.
How did you create the world of Unicornland? I know the character was inspired by life events, but is it drawn from interviews with others?
After my divorce, I wanted to educate myself about relationships, love, compassion, communication, intimacy, sex, options–to throw out everything I knew and explore urges I'd ignored in hopes of becoming a better partner, and more true to myself in relationships… So, improbably, I joined the New York fetish scene. The couples and scenarios portrayed in Unicornland are loosely inspired by encounters there. No one is specifically based on anyone, but there are shades of ideas and observations here and there.
Through that scene, I met many extraordinary couples who skillfully navigate complicated relationships with compassion and integrity. The experience taught me how many ways there are to love, but there were also darker lessons.
The world that Annie lives in is a current trend and cutting edge, how do you see the world of Unicornland in relation to today's culture?
Someone recently described ours as a "post-need society." The election has forcefully refuted that statement; it is painfully obvious now what a disparity of need exists in this country. But there is something to be said for that idea. I've been approached by many women, friends, colleagues, friends of friends and strangers on the internet, who resonate deeply with Annie's journey. I hope that this cultural explosion of female sexual exploration indicates that older, deeper-rooted, nastier facets of misogyny are being exposed and overthrown.
Tell me about some of the characters you've chosen for your stories and why you chose them.
The couples and individuals represent NYC categories that I observed: "in the scene." It's important to say that the series is about Annie's journey to explore her sexual/relational needs. It's not about polyamory. So the couples/individuals were representative of what an uninitiated newcomer might find. Some couples are very evolved and sex-positive. Others are more mercenary, and simply there to address their own needs. I wanted to expose Annie to both the gorgeous enclaves of warmth, and to the danger. No, that's not true; Annie asked for that. She wanted the full experience. In this season, post-divorce and working through some darker emotions, she definitely pushes herself to go hard. Sometimes it's magical and safe; other times not.
What's the significance of Annie dating couples, being polyamorous? How do you see this as a road to healing?
As mentioned previously, she wants to explore her sexuality, which is a new challenge for her post-divorce. She wants to share the couple's intimate connection, to see what they do in bed, and to allow herself a degree of detachment from others' relationships; traditional dating wouldn't work for her purposes. It was sort of surprising to me how many women saw themselves in Annie's position.
It's a surprise that in 2016, post Girls, Broad City, Sex and the City, Helen Gurley Brown, and Cosmo, that women still find themselves in their late 20's or 30's or 40's without knowing precisely how to get themselves off, who still slut-shame, and who look down on sexual exploration as promiscuous.
And who have some sort of break up with their old selves, and go through this odyssey. But, God, it still happens. So many women are still trapped doubting themselves, judging their needs, hating themselves for feeling unsatisfied. Unicornland is less about polyamory, which is definitely not for everyone, and more about female sexual empowerment.
What are your thoughts on current politics and cultural events in the U.S.? In the world?
Probably similar to yours.
On the Unicornland website, you talk about the faltering path of being an artist, can you talk a little bit about that and why you see it that way?
The U.S. doesn't value the arts. It values money. It's against the very foundation of this country's constitution to promote the arts and cherish artists. But the catch 22 is that artists cannot and should not be held accountable to money, profits, and marketability. So that's rough. I grew up in England, where the arts, not just entertainment, are more important culturally. There are more resources for artists there, so that's my comparison point.
How has living in America and being a writer/creator altered your emotional landscape?
I'd say I'm more emotionally mature than peers in other industries, but, by comparison, financially infantile.
Who would you say is your biggest influence?
Caryl Churchill, Shakespeare, Margaret Thatcher, and my grandmothers.
How would you like to see the world change?
We should all consider ourselves scientists.
What advice would you give to others who pursue creative endeavors?
Figure out what works for you.
Do you have any new projects in the works?
A few. All early stages.
If you could have one wish, what would it be?
Security. Or my mother's unconditional acceptance and love, which is probably the same thing.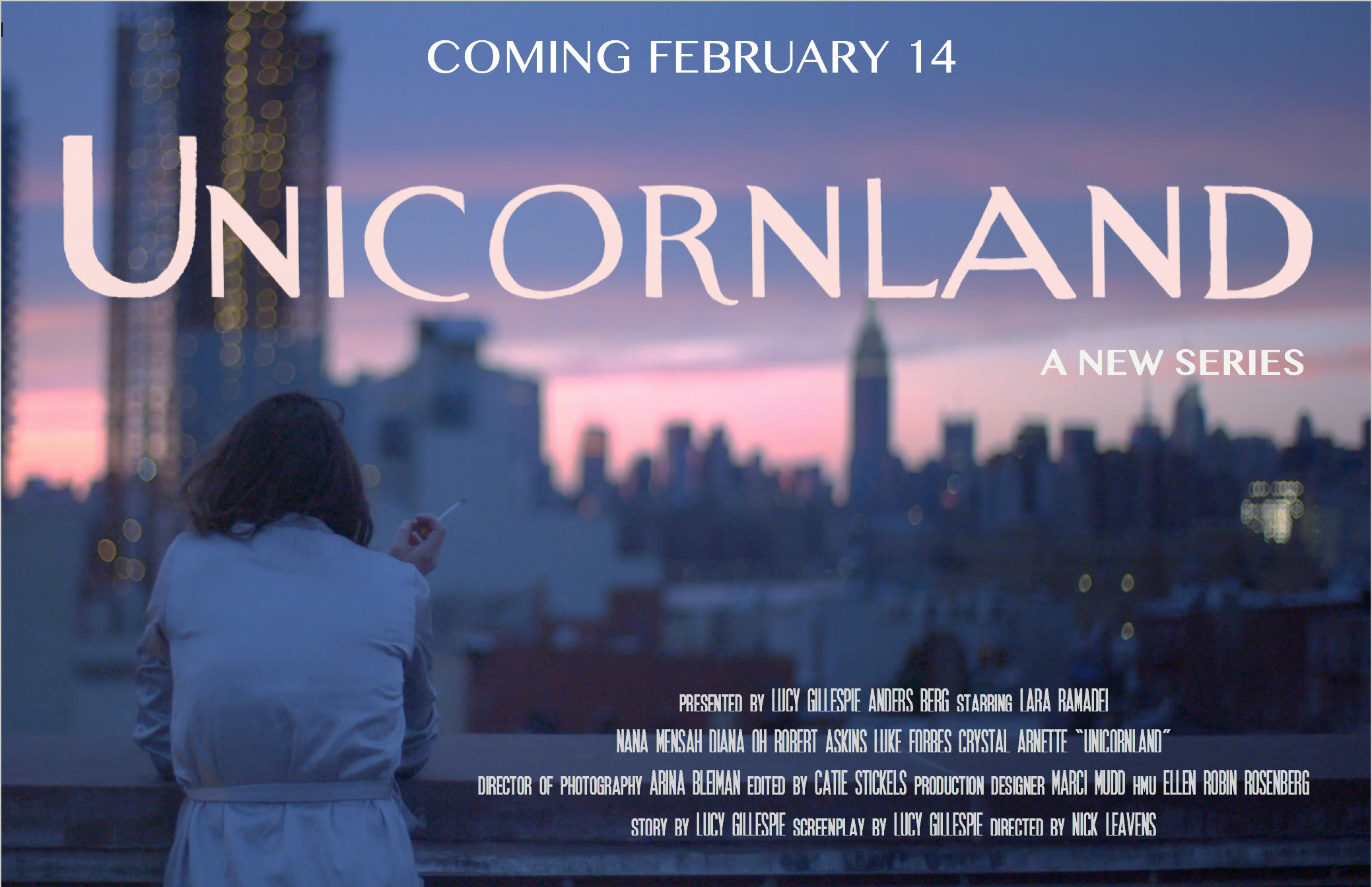 Image credit: Photo Courtesy of Unicornland
[rev_slider DonationSlider]