I wish I were in Paris.
At COP21, UN representatives and world nations are in their second week of discussions about reducing global carbon emissions. All agree that human beings are responsible for rising temperatures and increased greenhouse gases, and all agree lower emissions and standards for reduction of carbon use must be established. 184 governments have submitted plans explaining how they will reduce their domestic emissions after 2020.
Whatever agreement negotiators ultimately settle upon, many wonder how such reductions will be enforced going forward. The US wants to establish stringent and legally binding regulations that will ensure countries live up to their commitments made at COP21. Many underdeveloped countries, however, feel such oversight would be a violation and intrusion of their sovereign rights.
Another important and looming question pervades the discussions: will the intended goal of holding global warming at 2 ℃, which the US supports, suffice to protect the poorest and weakest nations, as these countries are likely to suffer the worst effects of climate change?
Indigenous, youth, and women's groups are pleading for a target of no more than 1.5 ℃ above pre-industrial levels, saying that targets above 1.5 ℃ will doom their ancestral homes: islands and other low-lying lands will be swallowed up by sea level rise and mass relocations will take place. Canada has just joined in support of the 1.5 ℃ target.
I wish I were in Paris.
Pennie Opal, an indigenous activist with Idle No More Bay Area California, sent me this message from Paris the other day:
It has been a struggle for our people on the inside of COP21 to keep the words 'Indigenous Peoples' in the document. Things shift from day to day, but as of now 'Indigenous Peoples' is only in the preamble [of the COP document], making it aspirational and not binding. Of course, things can shift but that is the way it is today.
"Personally," Opal continued:
I feel that the most important thing we can do to ensure a safe, healthy and sustainable world is to nonviolently rise up together in the millions. It is clear that most of the governments are more committed to economics and the laws that have allowed the harmful corporations to continue to extract every last dollar out of raping Mother Earth than they are to a safe and healthy future. The future is in our hands and hearts. We are Mother Earth's immune response activating for the future of all life to come. It is up to us.
On Sunday, December 6th, women's and indigenous climate groups gathered outside to form a human peace sign in front of the Eiffel Tower, and staged other actions in various Parisian locations.
I wish I were in Paris.
Yet I remind myself that my work in the US matters, too. I'm a professor and a chair of an academic Sustainability Studies Program where we are training our students to become effective environmental leaders.
Some of my students this semester had not heard of COP21 or didn't know much about the impact of global warming. But we are learning about environmental justice and ecofeminism, and this semester, we are covering the climate summit in Paris, and reading articles by leading climate journalists—Bill McKibben, Naomi Klein, Marc Schapiro, Rebecca Solnit. We are also meeting with local and national activists here in the US, in person and on Skype.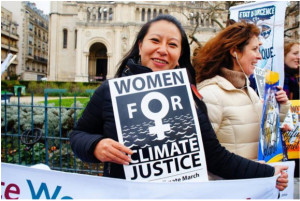 I also support local efforts to stop the building of the AIM-Spectra natural gas pipeline that is slated to run 100 feet from the Indian Point Nuclear Power Plant in New York, just 35 miles north of Manhattan. Engineers and scientists say the risk of building a highly volatile gas pipeline next to a nuclear power plant is too great. Twenty million lives in the New York City area are at stake. New York banned fracking for a long list of established health and environmental reasons, so why would we want to allow our state to participate in a natural gas infrastructure that endangers New York and our planet?
So I have important reasons for staying local. Still, I wish I were in Paris.
But I'm not the only one who stayed put. Many of my colleagues around the globe chose to remain local. Curious about their reasons for not going to Paris, I asked several why they stayed home.
Kumar Sundarum, an activist in India, explained:
I intended to go to Paris, but then the Japanese government announced that Prime Minister Abe was coming to India to persuade our government to buy and build Japanese nuclear power plants. I needed to remain at home to lead the opposition to this plan. Nuclear power is not the solution to climate change. We should be investing in and building renewable energy technology.
Carolyn Raffensperger, an environmental attorney and head of  Science and Environmental Health Network (SEHN) in Iowa, wrote:
While my friends and colleagues are in Paris working on an international climate agreement, I've been spending 11-hour days in Boone County, Iowa participating in a government hearing about a Bakken oil pipeline designed to snake roughly 500,000 barrels of crude oil a day across the heartland of the US. I was needed here. What could an international agreement do if we don't stop the drilling and shipping here, now?
Barbara Ford, a climate activist in Portland, Oregon told me:
I stayed home because I'm very involved with my local 350.org chapter…. We have a large march and rally planned for December 12th, and I've been working on a team to create banners, signs, puppets, and hand-painted Climate Justice Sunflower Umbrellas. We will have a marching band, flash mob, singing, and other creative visuals. … I'm working with a team of artists, musicians, dancers, and theater folk to support our climate justice work right here in Portland.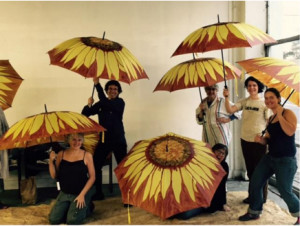 Shameika Hanson, a New York climate activist who works with Pete Seeger's Clearwater organization, told me that she did not go to Paris because: "There is so much to do right here on the Hudson River, so much to protect right here at home. I felt no need to leave. I'm super busy participating in local actions on climate abatement on the river."
Kim Fraczek, co-director of Sane Energy Project, the group that led the successful movement to halt the construction of the Port Ambrose Liquified Natural Gas facility off of Long Island, New York, said: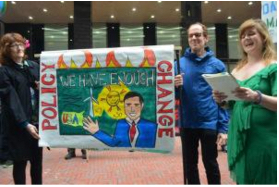 Some are called to work at an international level, but my work is in the local community. Here in New York, we are hard at work on stopping the AIM-Spectra pipeline that threatens our state and New England as well as our climate. I was just up at Indian Point Nuclear Power plant. It's utterly haunting how close the explosive gas pipeline is slated to be located next to the nuclear plant and forty years of radioactive waste. I shudder to think of what could happen to all of New York if we don't stop this pipeline.
Stephanie Malin, a professor of Sociology and environmental issues in Colorado, told me that her classroom is her "place of activism," and that's where she is most needed, "helping and teaching young people about environmental justice and the climate."
Greta Gaard, a professor of English and a seminal scholar of ecofeminist criticism and theory told me:
I didn't go to COP21 for a number of reasons, primary among them the paradox of burning transatlantic fossil fuels in order to protest burning fossil fuels. We here in Minneapolis, Minnesota did an allied rally with COP21 but we are also one of the 'ground zero' sites for #BlackLivesMatter activism. Our activists here recognize that while climate and racial justice activism have been coordinated on the international level at the COP21, there is [still] plenty of work to do here at home!
"Climate Mama," aka Harriet Shugarman, shared the following:
Paris is really about the personal connections that are forged amongst attendees. This is critically important. The formal outcomes at Paris were decided long in advance. What I am working on is local, regional and national relationships here in the U.S. We must follow up on Paris here at home through the implementation of local and regional policies to adapt to our changing climate, which will also mitigate the causes of climate change. The US is key to any international climate agreements. But in the absence of strong leadership in the US, at every level of government working to address the crisis we face, international climate negotiations won't be successful. We all need to regroup post Paris and focus on the 2016 elections. Regardless of political party, climate change must be front and center; this is what I am focusing on.
Enei Begaye from the Navajo Nation and climate activist in Alaska at the Indigenous Leadership Institute put it this way:
I'm 'home' because the work to combat and mitigate climate change is needed on all avenues. I completely support all the people who are in Paris to hold negotiators accountable and in particular those who are there representing Indigenous peoples so that our nations are not left out of decision-making tables. But I also believe that if we are going to be successful we need as many people as possible, from the community organizer to the business accountant to the local teacher — everyone — to get active and vocal about making some big shifts. And in Alaska, we need those people to demand climate justice from our local governments. So I'm not in Paris (although I would love to be), I'm doing what I can from here, the small and steady steps of base-building.
Speaking with my friends across the world helps me understand the important reasons for staying home. Still, I have Paris envy and wish I were at COP21.
I want to feel that "stunning new sense of inevitability" in the air that the Forbes' journalist Jeff McMahon describes:
Not the inevitability of climate change, that has always been present—but the inevitability of a worldwide human response to it. It's harder to sense this in America, where a few loud people are still dragging their feet or doubting or indulging in cynicism. It's not the inevitability of an agreement or a treaty necessarily, but the inevitability that positive change is about to occur anyway, that humanity is on the cusp of tremendous, disruptive change, as if we have just grown wings and are about to leap from the branch.
HEIDI HUTNER is Director of the Sustainability Studies Program at Stony Brook University. She teaches and writes about environmental literature and film, environmental justice, ecofeminism, ecocriticism, and media. Her writing includes academic books, popular magazine articles, narrative nonfiction, and memoir. At present, Hutner is working on two environmental memoirs, Inspiring Green Minds: Memoirs of an Eco-Professor, and Nowhere: Memoirs of An Atomic Family. @HeidiHutner. Check out her TED talk: Eco-grief and Ecofeminism.
---
For more info on women's groups attending or participating outside, visit:  WEDO—Women's Environment & Development Organization, WECAN-Women's Earth and Climate Action Network, Indigenous Environmental Network, Women and Climate Justice, Young Feminists for Climate Justice.
[rev_slider DonationSlider]