Bernie Sanders' entire campaign is based on the central themes of honesty, integrity, and trust. Sanders and his surrogates have carefully crafted his image as the only honest politician in the race, as the only person you should trust to elect as President. The argument is that while Hillary Clinton is corrupt, and beholden to big money interests, Sanders is not—he frequently touts that he doesn't even have a Super PAC.
Perhaps Sanders biggest campaign issue is Wall Street. In the November debate, he went on record saying he believes Wall Street's business model is illegitimate, that it is actually "fraud." Sanders has campaigned on massive Wall Street reform, and a break-up of the big banks.
---
With such an anti-Wall Street platform, one would think that Sanders didn't own any stock at all. But not only does Sanders own stock, he actually is invested in several industries that he's heavily criticized.
---
Sanders has railed against the "Big Banks," "Big Pharma," and "Big Oil" but that hasn't stopped him from investing in and profiting from any of those industries. I went to OpenSecrets.org to take a look at the assets Bernie Sanders reported in 2014. You can take a look at some of the funds he is invested in below: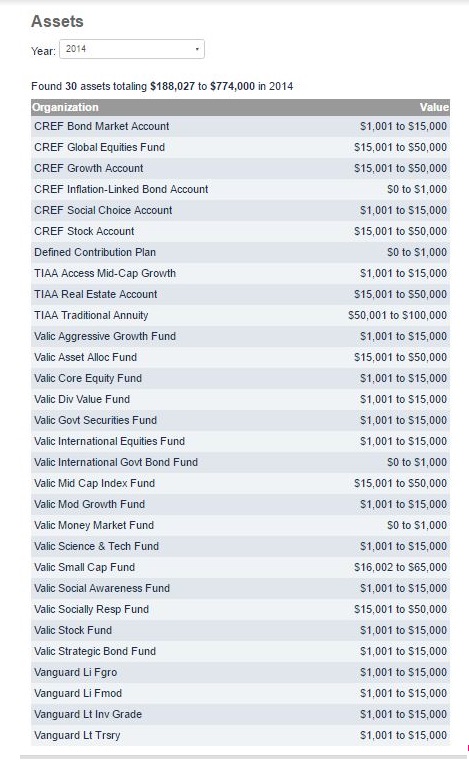 I looked into the holdings of several of these funds to see what kinds of companies he decided to invest in. It turns out that while Sanders is railing against Wall Street on the campaign trail, he's actually profiting from his investments in some of the biggest corporations in America.
Big Banks
One of Sanders' most well-known policies is his push to break up the big banks. Sanders has given America's biggest banks the notorious "too big to fail" label, and he has pushed the idea that their profits are coming at the expense of American workers. I was surprised, then, to find that Sanders himself owned funds with holdings in some of America's biggest banking institutions, including JP Morgan & Chase, Citigroup, Bank of America, US Bancorp, Wells Fargo, and Bank United. Bank United is particularly interesting, seeing as the federal government actually had to seize the bank in 2009 in part because "it was critically undercapitalized and in an unsafe condition to conduct business."
Here are some of the funds Bernie owns, and their corresponding banking holdings: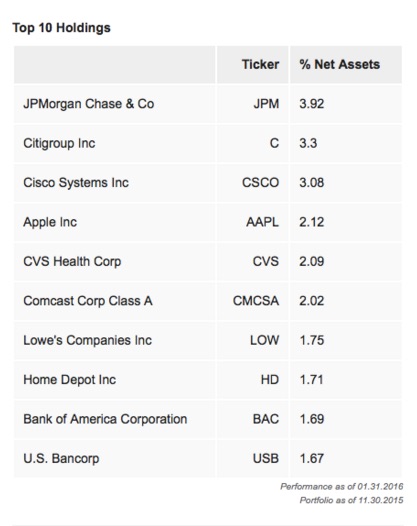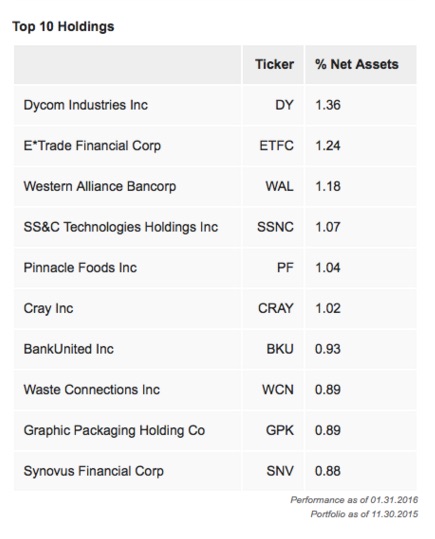 Big Pharma
Bernie Sanders has made attacking Big Pharma and their drug price hikes a regular part of his campaign speeches. Last fall, Sanders heavily criticized Turing Pharma and its massive price hike of the drug Daraprim, which is used to treat parasitic infections.
---
What we didn't know at the time is that Sanders is invested in and profiting from several pharmaceutical companies that have made major price hikes recently.
---
Sanders owns Pfizer, which has come under fire for raising prices for more than 100 of its drugs, some by more than 20 percent in 2016.  Sanders is also invested in Novartis, whose cancer drug Gleevec costs $76,000 annually. Some estimate that the annual cost is significantly higher, possibly into the six figures. When pharmaceutical companies like Pfizer and Novartis can increase the prices of their drugs or shut out low-cost generic competition, their stock price increases. Those price increases make Sanders money.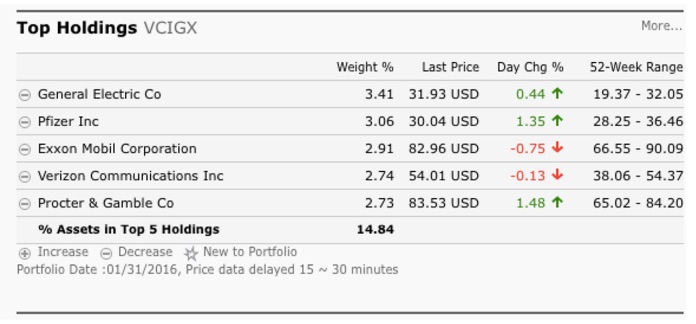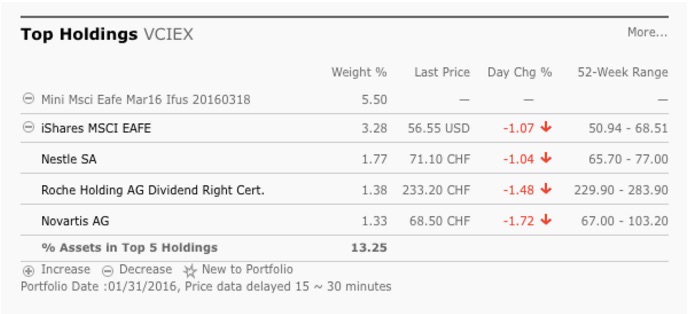 Fracking
Sanders has repeatedly knocked the fossil fuel industry, and he's attacked Hillary Clinton for supposed donations from lobbyists who have oil and gas companies as clients. What Sanders omitted was that his mutual funds are invested in fracking, and he is profiting from it. Let's take a look at Sanders' Valic Aggressive Growth Fund.
We can see that the fund holds a variety of other mutual funds, including Valic Company II Mid Cap. You can check out the Mid Cap holdings below: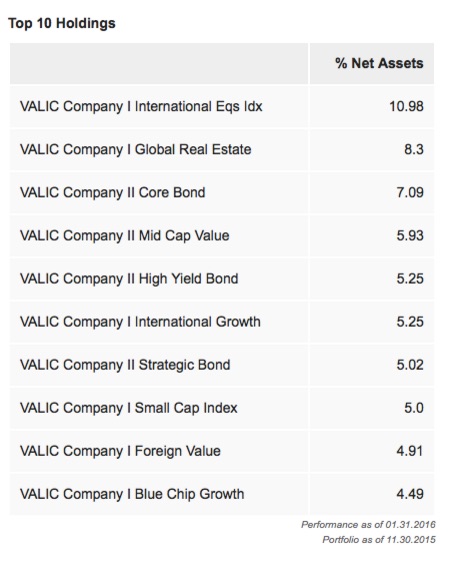 Diamondback Energy* (see below) is a top holding in the Valic Company II Mid Cap fund, so I looked them up. They are a fracking company based in Texas: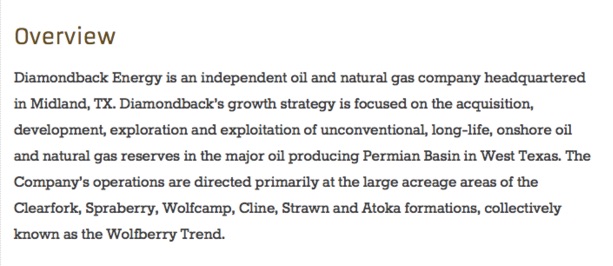 On his campaign website, Sanders states that he wants the rest of the country to "stand with Vermont and other states to ban fracking." So why is Sanders invested in mutual funds that own fracking companies? How can Sanders attack fracking industry contributions when he is actually profiting from the fracking industry?
Honesty, Integrity, and Trust
Senator Sanders has built a fairly successful campaign on idea that he is the most honest and trustworthy candidate in the race. He's won 15 states and has pulled within single digits of Hillary Clinton nationally in several polls. By all metrics, he's become far more than the protest candidate that he was believed to be last summer. But is Sanders being completely honest with the voters about his investments? From all of the publically disclosed information found on OpenSecrets.org, the answer would appear to be no.
---
A full release of his tax returns and the assets within could clarify some of his holdings and bring more light to the other stocks, bonds, mutual funds, retirement accounts, or real estate holdings that Sanders owns.
---
Through mutual funds, Sanders is invested in several of the industries that he's regularly attacked. Outside of Big Pharma, Big Oil, and the Big Banks, he owns funds that hold Nestlé, which is leaving American workers behind to build factories in Mexico, as well as Amazon, which has become notorious for pushing its workers beyond their physical and mental limits.
It will be interesting to see if Sanders' assets become a bigger issue in the race, especially given the fact that the media has begun questioning him about releasing his tax returns. A full release of his tax returns and the assets within could clarify some of his holdings and bring more light to the other stocks, bonds, mutual funds, retirement accounts, or real estate holdings that Sanders owns. If Sanders does release his full tax returns, will the types of assets he owns call his integrity into question? That's something the American public will have to decide for themselves.
 By Marcus Johnson
---
*Clarification:
There has been some confusion about the mutual funds disclosed by Sanders. For example, Diamondback Energy is held by VMCVX, the Valic Mid Cap Value Fund. The Valic Mid Cap Value Fund is not to be confused with the Valic Mid Cap Index Fund, VMIDX, as they are different funds. Sanders directly lists ownership of the VMIDX fund, and not the VMCVX fund. However, while Sanders does not list the VMCVX fund directly, he still owns it indirectly. Sanders does list ownership of the Valic Aggressive Growth Fund, or VAGLX. If you look at VAGLX's holdings, the fund owns the Valic Mid Cap Value Fund. Even though the Valic Mid Cap Value Fund is not listed directly by Sanders, he still owns it by holding the Valic Aggressive Growth Fund. The Valic Mid Cap Value Fund, of course, holds Diamondback Energy. This investment is not as direct as Sanders other holdings in mutual funds. Sanders does have further investments in funds that hold oil/natural gas companies, such as the Valic Company I Stock Index Fund. This fund holds Exxon Mobil as one of its top ten holdings, as you can see below: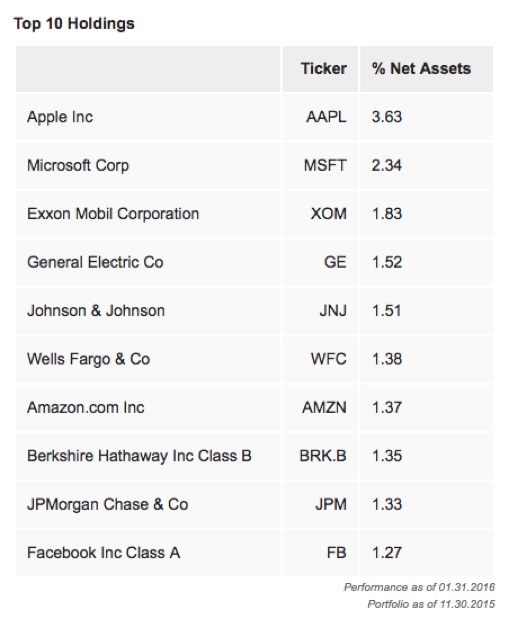 ---
Marcus is an author, investor, entrepreneur and has degrees in political science from Florida State University and Oberlin. He also has a website, Weekendpolitics.com.  @smoothkobra
Full Disclosure, Marcus Johnson writes:
I am a Hillary Clinton supporter and believe that she is the best choice to lead the United States. I believe that Secretary Clinton could break barriers as the first woman President and create positive change for marginalized communities in the United States, as well as help spur domestic job growth.
[rev_slider DonationSlider]